Posted on | May 28, 2012 | 11 Comments
The infrared Sauna heats the body directly instead of only warming the surrounding like the Traditional conventional Saunas. This then raises the body core temperature instead of the surface temperature, meaning, in the Infrared Sauna your pores are opened up thus extracting toxins, heavy metals and impurities, having a deeper tissue detox therefore sweating twice as much in an Infrared Sauna then you would in the Tradition Steam Sauna.
It is suitable and appropriate for those who suffer from chronic illness and who would be looking to take daily sauna sessions. As The infrared Sauna is effective when it comes to releasing Toxins from the body.
While in the Infrared Sauna, releasing all those toxins and heavy metals through a deeper sweat, you have a ionizer which cleans out the air, disinfecting germs / bacteria and toxins that you are releasing into the sauna. Therefore, all you impurities released during your session does not return to you.
After you Sauna session you have a ozonator in the sauna, which you switch on, once done with your sauna session. The ozonator sterilizes the cabin. The Ozonator should only be switched on after your sauna session, as it is one level above oxygen, and if switched on during your sauna session, it may collapse your lungs.
Is infrared Safe?
Yes!
Infrared is used in birth, to warm up new born babies.
Infrared heat is also naturally emitted with human bodies. Which is at 9.4 microns.
Example: When you are asleep and start perspiring, that is your body emitting Infrared heat, trying to get rid of toxins in your body, as the human body has to detox.
With the Infrared Sauna, it is made possible for the Human to detox.
How Expensive is it on electricity?
Very reasonable.
The Far Infrared Sauna works with your normal house plug, you plug it in and your Sauna shall be ready within 15minutes to begin your Sauna session.
Example: Your 2 person Sauna, it carries 5 heating panels, each heating panel at 300Watts, in total you are looking at 1500Watts in your Sauna. Meaning you shall be spending R2.50-R3.00 per hour in you Sauna on your electricity bill.
So you have your Sauna heated up in 15 minutes, your Sauna session in 30 minutes and you Sterilize it for another 10 minutes with your ozonator (which is inside you Sauna, read above). Therefore you have 55 minutes you are using your sauna. Looking at the times daily, if you are using your sauna once everyday (which you may do so), you are looking at spending R75 per month on a once a day Sauna session.
Electricity efficient, Health Cabin.
Get you Far Infrared Sauna Today. Start your Detox, Purchase your Health Cabin.
CONTACT US TODAY
021 556 7203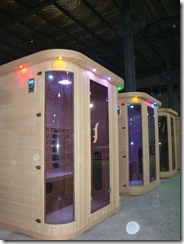 Category:
1 person sauna
,
1 person saunas
,
2 person sauna
,
2 person saunas
,
3 person sauna
,
3 person saunas
,
4 person sauna
,
4 person saunas
,
Airbag massage technology
,
Crazy fit machine
,
Crazy fit massager
,
Detoxification
,
Extreme sport
,
Extreme sports
,
Far infrared massage tapper
,
Far infrared saunas
,
Fitness
,
Fitness machine
,
foot massagers
,
Hair loss prevention
,
Health
,
Infrared comb massagers
,
Infrared foot massagers
,
Infrared massage hammers
,
Light therapy
,
Luxury massage chair
,
Luxury massage chairs
,
Massage belt
,
Massage chair
,
Massage chairs
,
Massage combs
,
Massage tappers
,
Massager
,
Massagers
,
Mp3 massage chair
,
Mp3 massage chairs
,
Pain relief
,
Portable sauna
,
Portable saunas
,
Power plate
,
Power vibration plate
,
Reflexology
,
Reflexology infrared foot massagers
,
S series saunas
,
Sauna
,
Sauna belt
,
Sauna electricity saving
,
Saunas
,
Shark far infrared massage hammer
,
Slimming belt
,
Sport
,
Toning
,
Uncategorized
,
Vibration machine
,
Vibration slimming belt
,
Vibro belt
,
Weight loss
,
Weight loss machine
,
Xtreme sky jumpers
Tags:
electricity reasonable
>
Health
>
infrared and electricity
>
infrared sauna
>
infrared sauna health
>
infrared sauna safety
>
infrared sauna sale africa
>
infrared sauna sale cape town
>
infrared sauna sale south africa
>
reasonable
>
safety
>
savings
Comments