Posted on | March 16, 2012 | Comments Off
CONTACT US NOW:
Saunatech
021 556 7203 / 7
For further information:
www.saunatech.co.za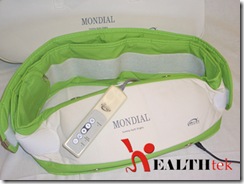 Your health protector.
Futures and Effectiveness slimming belt .
An innovative product which utilizes the patented Twin Power Osimotion(TPO).
Gives you an effective oscillating massage.
The patented TOP is a unique symmetrical doable – point massage Technology
Wish is more in line with the naturally systematical human body.TPO provides
A more balanced treatment (working on both sides of the body at the same time
Thus ensuring a more effective and efficient (time saving )  therapy.
The product is ergonomically designed to ensure maximum fit and comfort.
This product is equipped with a stand heating function designed to allow   you maximum,
Flexibility in the choice of features.
A manual mode with 5 variants of speed and intensity.
A rhythmic massage programmer which integrates different massage,  speeds and intensity.
The sleek remote  control , makes control easy and simple.
Oscillating movement indicators provide a clear understanding of the massage movement.
Auto-timer function of 10 minutes for all  modes .
A trim – lined carrying case is also included to provide added comfort while on the move .
USE OF CAN:
Help you achieve the figure you are targeting with it slimming function.
Use in conjunction with a sensible  diet , it is an effective means of burning body fat and weight reduction.
Assist in basic toning of your body with its unique oscillating movement.
Give you the feeling of homely massage and let you take a well deserved rest after a day at work.
Category:
1 person sauna
,
1 person saunas
,
2 person sauna
,
2 person saunas
,
3 person sauna
,
3 person saunas
,
4 person sauna
,
4 person saunas
,
Airbag massage technology
,
Crazy fit machine
,
Crazy fit massager
,
Detoxification
,
Extreme sport
,
Extreme sports
,
Far infrared massage tapper
,
Far infrared saunas
,
Fitness
,
Fitness machine
,
foot massagers
,
Hair loss prevention
,
Health
,
Infrared comb massagers
,
Infrared foot massagers
,
Infrared massage hammers
,
Light therapy
,
Luxury massage chair
,
Luxury massage chairs
,
Massage belt
,
Massage chair
,
Massage chairs
,
Massage combs
,
Massage tappers
,
Massager
,
Massagers
,
Mp3 massage chair
,
Mp3 massage chairs
,
Pain relief
,
Portable sauna
,
Portable saunas
,
Power plate
,
Power vibration plate
,
Reflexology
,
Reflexology infrared foot massagers
,
S series saunas
,
Sauna
,
Sauna belt
,
Sauna electricity saving
,
Saunas
,
Shark far infrared massage hammer
,
Slimming belt
,
Sport
,
Toning
,
Uncategorized
,
Vibration machine
,
Vibration slimming belt
,
Vibro belt
,
Weight loss
,
Weight loss machine
,
Xtreme sky jumpers
Tags:
diet with the slimming belt
>
slimming belt massage
>
slimming belts
>
slimming belts cape town
>
weight loss with slimming belts
Comments